---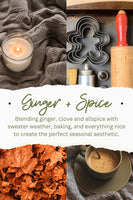 Ginger + Spice
Get your Fall + Holiday vibes all together in this one wonderful scent. Blending ginger, clove and allspice with sweater weather, baking, and everything nice to create the perfect seasonal aesthetic.
Sweet addition
You take the tartness of ginger, and blend it with the sweet spices of the season, and you've got a fantastic candle! I love lighting this in the kitchen where it fills the room with a perfectly blended spiced candle!! Love this one!!
Freshly Baked Yumminess
Delish! For me, sweet and spice, the perfect combo for my kitchen and living room. One of the very best!