---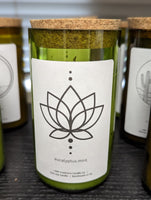 Eucalyptus Mint 
Find your zen with this restorative fusion of invigorating peppermint and the rejuvenating aroma of eucalyptus. Sit back, relax, and breathe in this refreshing scent as inviting notes of lemongrass and cedarwood lightly float through the air.
*12.5 oz. Repurposed Flat-Bottom Wine Bottle with Cork Lid
*Available in Clear or Amber glass
*60 Hour Burn Time 
*100% Soy Wax
Burning instructions:
During the first burn, make sure to allow the candle to melt to the edges of the container. Failure to do so can result in tunneling, poor scent throw, and poor burn times. Trim wick to 1/4" before lighting. Keep candle free of any foreign materials including matches and wick trimmings. Only burn the candle on a level, fire resistant surface. Do not burn the candle for more than 4 hours at a time.
Oh my gosh! Surprise!
For anyone who had a grandparent that used Irish Spring soap, this is the candle for you!! Reminds me of my late grandfather. Wow! I don't even have to light it, although I do. Takes me back to being a kid. Love this one!
Clean and Fresh
Eucalyptus and mint is such a great scent combo - so light and fresh. I appreciate that EKP uses all natural essential oils and soy wax which makes them burn clean as well. Love the cute little mason jar, too. I like that the lid is included so that once the candle has cooled I can put the top on to save the scent in between uses. All of my purchases from EKP have been packed with exceptional care. I'm very happy my sister-in-law turned me on to this great shop!
My favorite scent !
One of my clients brought me one of your fabulous candles & I was immediately hooked!
I own a skincare business and have many clients whom are sensitive to heavy fragrance. This scent is soft & calming.