---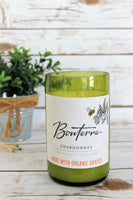 Sale
We offer discounted refills on our wine bottle candles.
❖ This listing is for a Short Label Bottle (approx 5" tall) that has already been cut and polished. 
Send us your clean bottle and we will make a new candle for you. And you save 20% off of the regular price.
The best way to get the wax out? Soy wax is pretty easy to scoop out with a butter knife and paper towel. Then a little rinse with warm water and soap should get the rest.
❖ Choose Your Scent and Add To Cart
❖ When you get to CHECKOUT, enter your address for shipping (this is what we use to ship back to you)
❖ Grab some bubble wrap, and a box and take it to your local shipping center to send to us (Customer Pays for this Shipping Separately)
          EKP Creations Candle Co.
          1624 Lionheart Drive
          Frisco, TX 75036
❖ Once we get the bottle, it will take about 10-14 days to get it cut, poured and shipped back to you